Community Cafe
Our Community Cafe is a modern spacious design with ample tables and seating for that well earned snack while your children play safely in the indoor play area. And for those who simply want to relax there are some comfortable sofas to allow you to indulge yourself - after all, you've earned it!
The indoor play area is a very safe environment for your children, requiring minimal supervision and thereby allowing you to enjoy your Cafe experience to the full.
The Cafe is staffed by a team of volunteers from All Saint's Church.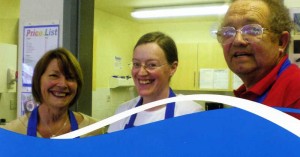 The Cafe is supported by our local Tesco and Coop stores. Tesco are involved in the Fareshare scheme which allows us to make use of ambient foods that have been removed from the shelves but are still in a good condition. For example, we receive their pastries which we are able to offer to the public, who often choose to make a donation to help our charity. We are also in a position to be able to give some of the food to families in crisis.

We have twice been one of the charities supported by our local Coop and the members card system which allows people to choose which charity they would like to support. We received over £800 from the first round and will be receiving another award later this year, all of which helps to maintain our volunteer led services.